Our popular asparagus pie is easy and delicious! You will make this vegetable pie over and over again.
Ingredients
1 unbaked pastry tart shell
2 packs Ilo Oat Spread or Ilo Cashew Spread (150 g each)
0.5 dl Oat Cream
1 large garlic clove, sliced or chopped into small pieces
1 1/2 tablespoons fresh thyme or tarragon for the filling and a little more for garnish
1/2 tablespoon finely grated lemon zest
1/2 teaspoon of fine sea salt to the filling
A touch of freshly ground nutmeg
About 225 g of asparagus, hard ends cut off
Extra virgin olive oil
Freshly ground pepper
Optional: chili flakes

Instructions
In a medium bowl, mix Ilo Oats Spreads, oat cream, garlic, thyme / tarragon, lemon zest, salt and nutmeg until smooth.
Flour the baking tray and roll the dough into a rectangular tray about 30 x 25 cm long. Transfer the dough over the baking paper to the pan and lightly mark the edges of a few inches with a sharp knife.
Spread the filling on top of the pie, leaving the edges free. Place the asparagus on top of the filling and sprinkle with olive oil and salt. Bake for 25-30 minutes until the edges are puffed and golden brown. Allow the pie to cool for at least 15 minutes. Crush black pepper and add thyme / tarragon on top of the pie. Serve and enjoy!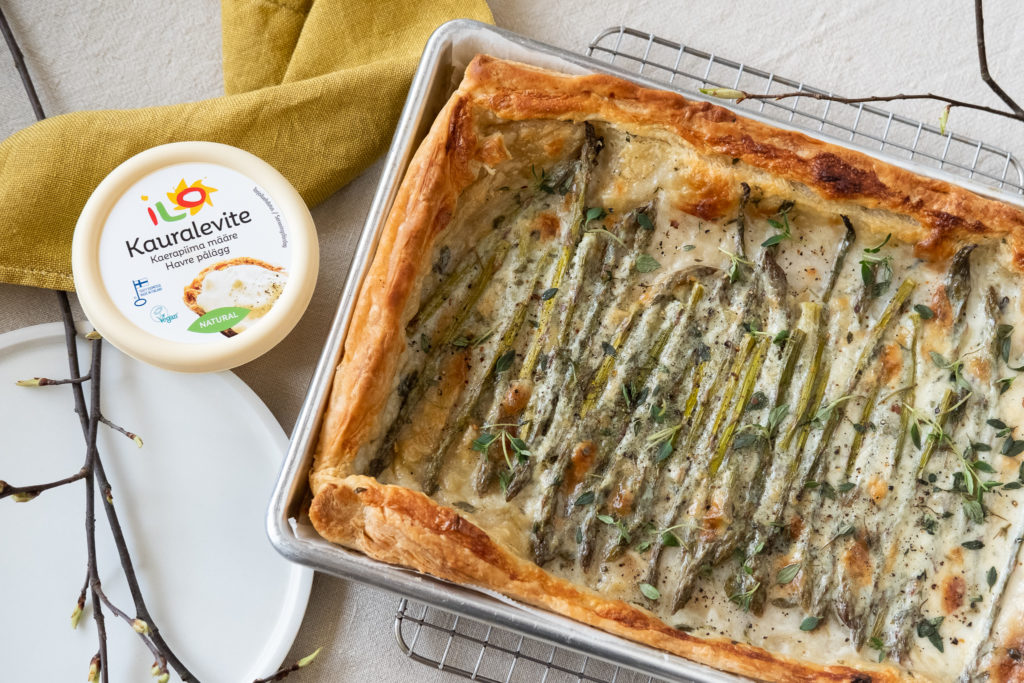 See more
Tags