Tacos and tortillas are a guaranteed dinner favorite for the whole family and also a hit with groups of friends. Next time, try the wonderfully spicy black bean roast and the gentle bitter Mexican creme.
Our black bean bake is a wonderful spicy oven bake with garlic, caramelized tomato puree, smoked peppers and cumin. The end result is what you want from a really good chili or stew, but takes a lot less time. Serve with fried tortillas and chips like we do, or with rice or fried potatoes.
The traditional Mexican crema is a thickened cream used to flavor Mexican soups, tacos, tortillas, burritos, enchiladas and anything that needs a touch of tanginess. It is creamy, sweet and slightly tart. The Mexican crema can be used as a freshener for both savory and sweet foods. We veganized the traditional Mexican crema with Ilo Cashewlevite Natural, and we dare say it tastes good to the dairy eaters as well!
Ingredients:
Black Bean Bake:
2 tablespoons extra-virgin olive oil
1 small onion, chopped
5 garlic cloves, peeled and sliced
½ desiliter tomato paste
1 ½ teaspoon smoked paprika
Pinch of red pepper flakes
1 teaspoon ground cumin
2 cans black beans, drained and rinsed
120 ml water
Kosher salt and black pepper
½ bag of Ilo Pizzatopping for vegans for topping
Cashew Crema: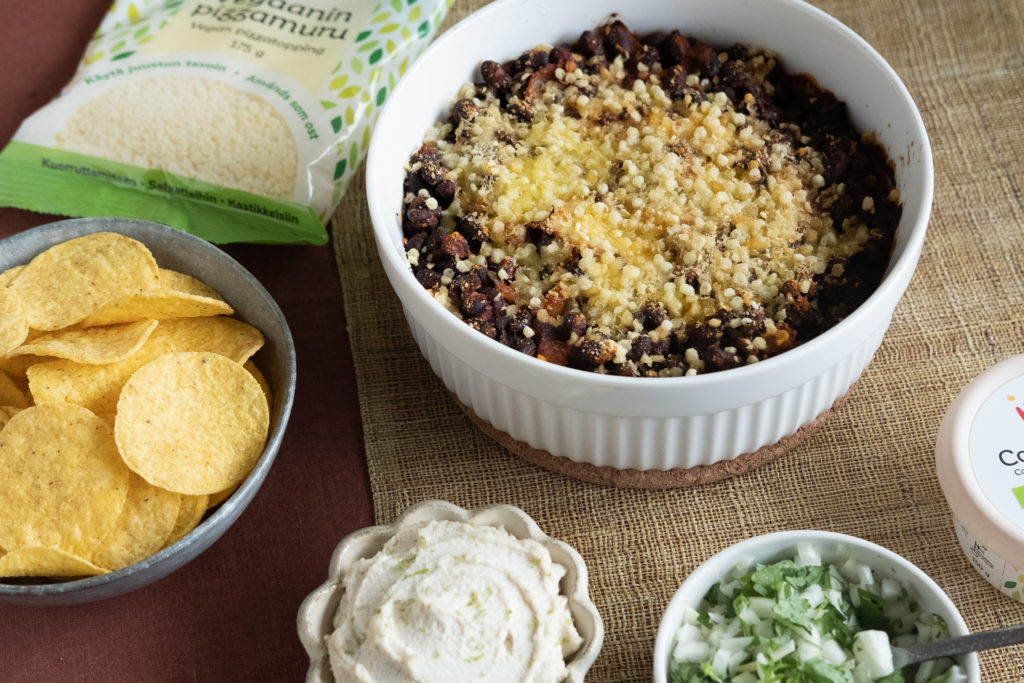 Preparation
Heat the oven to 250 degrees celsius.
In a 10 medium frying pan, heat the olive oil over medium-high. Fry the chopped small onion and garlic until lightly golden and translucent, about 1 minute. Stir in the tomato paste, paprika, red-pepper flakes and cumin, and fry for 30 seconds, reduce the heat as needed to prevent the garlic from burning. Add the beans, water and generous pinches of salt and pepper, and strip to combine. Transfer the bean mixture to a medium baking dish and top generously with Ilo Vegaanin Pizzamuru. Put in the oven for 10 to 15 minutes or until the pizzamuru has melted. If the top has not melted or browned to your liking, use the broiler for 1-2 minutes.
While the Black Bean Bake is in the oven, prepare the Cashew Crema: mix the juice of half a lime with one container of Ilo Cashew Spread and top with a pinch of lime zest. Serve immediately with warm tortillas, tortilla chips, chopped fresh onion, coriander and Ilo Cashew Crema.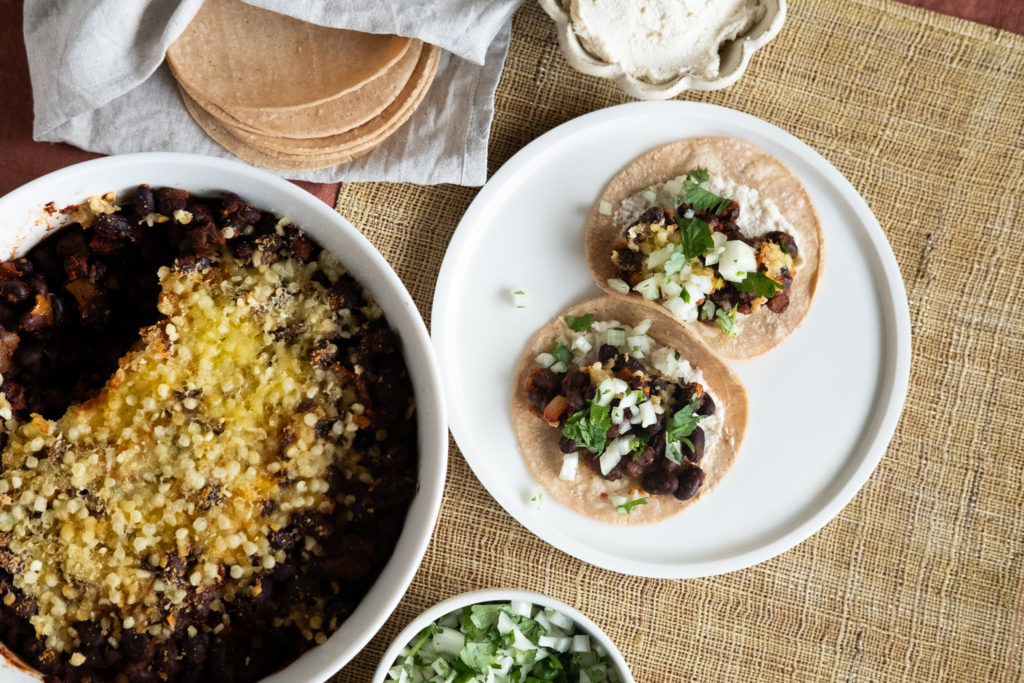 See more
Tags